Where: Michigan Stadium, Ann Arbor Michigan
When: 3:30 ET
TV: ABC
The Big House holds 109,901 fans
On Saturday, Novemeber 9th, the Nebraska Cornhuskers will travel to Ann Arbor to face the Michigan Wolverines. Coming off a tough loss to Michigan State, the Wolverines will look to recover against a Nebraska team coming off a Hail Mary victory over Northwestern. Both teams are injured, both teams are mistake-prone, and both teams have something to play for. This game may simply come down to emotion.
How Michigan can win
Offense: Gardner must quickly forget the nightmare in East Lansing and focus on Nebraska. Gardner, who is viewed as an exceptional athlete, must use his legs to beat Nebraska. Bo Pelini's defensive scheme often has the defensive backs with their backs turned away from the offense, which is why dual-threat quarterbacks have had success running against the Husker D in the past. Michigan cannot use the same "ground and pound" blueprint that Wisconsin and Minnesota used against Nebraska, as they do not have a good interior offensive line. In fact, their interior O-line is bad. Look for Brady Hoke and to put Gardner in more zone-read situations, which allows him to use his feet, as opposed to his arm.
Key to the game: Don't run pro-style, run Gardner.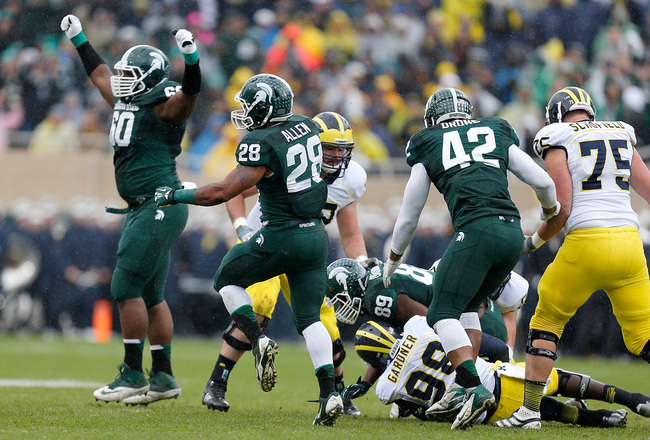 Devin Gardner was sacked 7 times against Michigan State 
Defense: While Michigan's defense struggled against Penn State, Indiana, and Michigan State, they still run a complex blitz-happy scheme that is difficult for any quarterback to decipher. Outside linebacker Jake Ryan does not seem to be himself after recovering from an ACL tear, but he is still good. Nebraska will start freshman QB Tommy Armstrong, who has thrown 6 interceptions the last 2 games. If Michigan's front 4 can get "any" type of pass rush on Nebraska's beat-up interior offensive line, they may make the "stage too big" for the freshman, and this game could get out of control quick.
Key to the game: Pass rush, pass rush, and more pass rush.
Jake Ryan is trying to get back to full speed after suffering an ACL injury in the spring
How Nebraska wins
Offense: In terms of pure skill positions, this may be the most talented offense that Michigan has faced all season. Michigan, whose front 7 has struggled in getting to the quarterback all year, will face the dynamic duo of Tommy Armstrong and the Big Ten Leading rusher, Ameer Abdullah.  Combine these two dynamic athletes with the physical downhill runner Imani Cross, this could be a long day for the Michigan front 7. Additionally, Tim Beck and the Husker offense have an opportunity to take advantage of Michigan's inconsistent secondary, especially if Kenny Bell and Jamal Turner return. While Michigan has played Notre Dame and Sparty, they have not seen these type of athletes… Ameer Abdullah, Quincy Enunwa, Kenny Bell, Jordan Westercamp, Jamal Turner, and Alonzo Moore.
Key to the game: Run the ball and take Michigan's will early.
Ameer Abdullah may be one of the most underrated backs in FBS football
Defense: Nebraska's defense has been incredibly inconsistent in 2013, but showed signs of growth in the Northwestern game. Since the 11:07 mark in the 2nd quarter, the defense allowed a grand total of "3" points. We know Michigan's young offensive line is extremely vulnerable and if Randy Gregory and Avery Moss can get consistent pressure on Devin Gardner, he will make bad decisions. You can bet on that. One major concerning factor for Michigan is their interior line (2 guards and center). If Nebraska Defensive Tackle Vincent Valentine (6'3, 325) continues to attract double teams, allowing the rest of the front 7 to Tee Off on Gardner, this could be another long afternoon for Michigan.
Key to the game: Stop the run, make Gardner pass
DT Vincent Valentine must bring his "A" game every play against Michigan
Key Players for this game
Michigan: Devin Gardner (QB), Taylor Lewan (LT), Jeremy Gallon (WR), Frank Clark (DE)
Nebraska: Ameer Abdullah (RB), Quincy Enunwa (WR), Vincent Valentine (DT), Randy Gregory (DE)
Whichever way you choose to break this game down, both teams have sustained significant injuries. This really may come down to who wants it more.